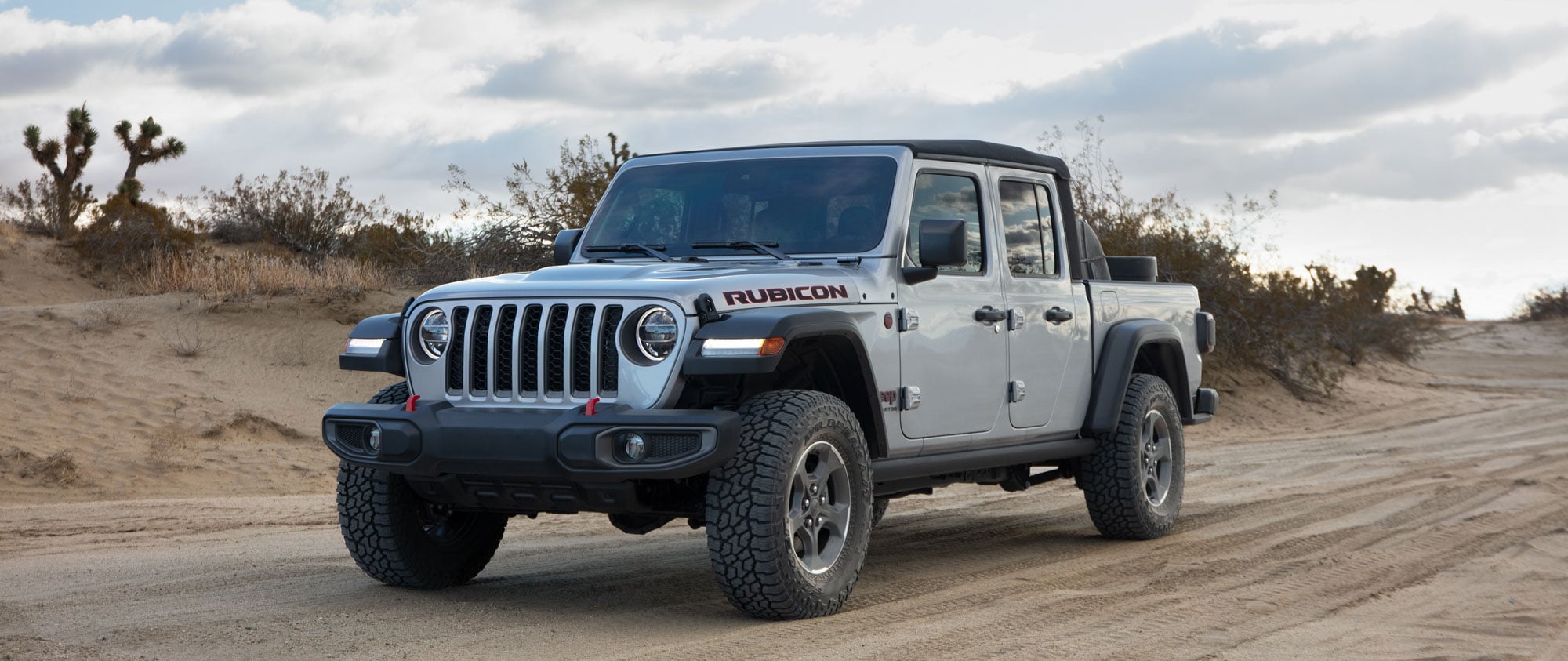 Which Is Best Suited For Your Lifestyle
The 2020 Jeep Gladiator has been voted the 2020 North American Truck of the Year. This vehicle has the look of the Wrangler, with doors and roof panels that are fully removable and a windshield that folds down. The Jeep Wrangler offers pure off-road prowess and a primitive off-road style that appeals to everyone.
The Gladiator is 31" longer than the Wrangler Unlimited and comes with a standard 3.6-liter V6 engine, providing 285 horsepower and 260-pound foot of torque. This gives it the best towing capacity of midsize pickups with a 1,600 payload and 5-foot bed. So, what Jeep is best for you? Since both vehicles are fantastic choices, it really comes down to what vehicle is a better fit for your lifestyle when deciding between the Gladiator or a Wrangler.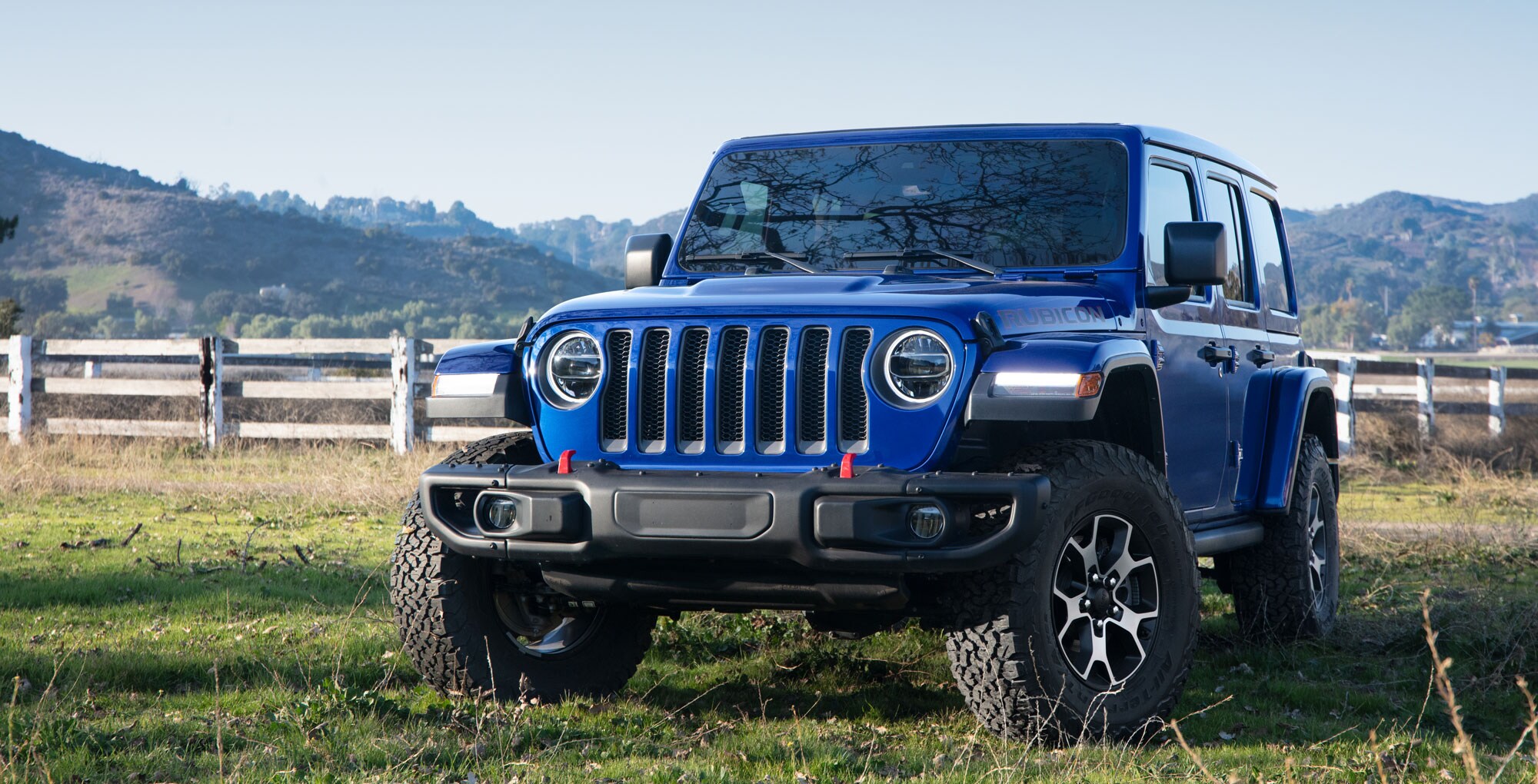 Jeep Wrangler
The New 2020 Jeep Wrangler
 is a versatile vehicle has the ability to go anywhere off-road and is the only convertible SUV available. Available in 2-door or 4-door options make this 4-5-passenger vehicle it a good option for everyone.
The Wrangler offers pure off-road prowess and a primitive off-road style that appeals to everyone. There are a number of special editions available, making it a versatile, all-terrain vehicle that fits better on an off-road rock climb than parked at the mall.
Performance
For fun and convenience, the Unlimited models are available with a soft-top or a removable hardtop. Options include a 3.6-liter V6 285 horsepower, a turbocharged 4-cylinder 270 horsepower, or a turbodiesel V6 260 horsepower engine. Transmission options include an eight-speed automatic or a six-speed manual.
The 4-door Wrangler Unlimited models are able to tow up to 3,500 pounds. The fuel mileage in a 2-door model is 18/23 mpg city/highway in an automatic transmission and 17/25 mpg city/highway in a manual transmission.
Almost every Wrangler has the option of a 2.0 liter turbocharged 4-cylinder eTorque that provides 270 horsepower and 295-pound foot of torque. This engine provides 22/23 mpg city/highway in the 2-door model and 21/22 mpg city/highway in the 4-door model. Available only with an automatic transmission is the 3.0-liter turbodiesel V6 that has 260 horsepower and 422-pound foot of torque. 
Safety features are rear cross-traffic alert and blind-spot monitoring. The current Jeep Wrangler models have not been fully crash tested. 
Interior
Trunk space of 31.7 cubic feet is available behind the second-row seats in the 4-door Unlimited models. With the rear seat folded down, there is 72.4 cubic feet total cargo area. The cargo area of the 2-door model is considerably less, with only 12.9 behind the back seat or 46.9 cubic feet with the back seat folded down.
The base 2020 Wrangler comes standard with a push-button start, 5.0-inch touchscreen infotainment system, and a single USB port. There is an option to upgrade to a 7.0-inch or 8.4-inch Uconnect infotainment system, keyless entry and two rear USB ports.
Trim Levels
The 2020 Wrangler is available in four trim levels:
  •
Sport-features 17-inch steel wheels, cloth seats, push-button ignition, fog lights, 5.0-inch infotainment screen, a rearview camera, and a single USB port
  •
Sport S-features 17-inch alloy wheels, air conditioning, power door locks and windows, and keyless entry
  •
Sahara-features dual climate control, backseat USB ports, automatic headlights, LED lighting in the cabin, 7.0-inch infotainment system, and exclusive to the 4-door Unlimited, 18-inch wheels
  •
Rubicon-features a rock-crawling 4:1 gear ratio for the low-range 4-wheel drive system, electronically controlled locking differentials for the rear and front Dana 44 axles, knobby all-terrain tires, 17-inch alloy wheels, and a unique exterior styling que. The 2020 Jeep Wrangler offers a timeless design, strong value, and practically unlimited off-road capability making it a worthy selection.
Jeep Gladiator
The Car Connection Expert Review voted the
New 2020 Jeep Gladiator
the #6 pickup truck of 2020. This vehicle takes the Wrangler and turns it into one sleek off-road pickup truck. Pop its top off for some warm-weather fun and there is no mistaking this vehicle is a jeep.
The Gladiator comes in three trim levels, a low-frills sport, the tony Overland, and the Rubicon. All three models come with a standard 285-horsepower 3.6 liter V6 engine. For transmission, you have the option of an 8-speed automatic or a 6-speed manual and part-time 4-wheel drive. 
The V6 performs best with the 8-speed automatic transmission. That combination allows the transmission to slip through the eight cogs quickly while providing good acceleration. The standard 6-speed manual transmission has a light clutch and long throws, and with the V6's limited low-torque frequent shifting is necessary.
The Gladiator, when properly equipped, is able to tow up to 7,650 pounds. It is estimated that mileage will be at 19 mpg with either transmission. The Gladiator is a Wrangler from the rear seat forward. It comes standard with a black cloth top, or you can select an optional composite top in either black or the body color. The cloth top allows in a lot of road noise at high speeds. There is an optional insulation package designed to muffle road noise when driving at high speeds.
Take the top off and you have a pickup that stands out from the crowd. The seven-slot grill is slightly wider than those on the Wrangler to improve engine cooling. Remove a few screws and fold the windshield down onto the hood. The Gladiator has a wheelbase that is 19 inches longer than that of the Wrangler. The 5-foot bed is available with a roll-up cover and a spray-in Bedliner. The Gladiator is a half-inch longer than rival pickups with 5-foot beds.
There is an additional 12 inches of frame beyond the rear wheels. The length may cause off-road break-over and departure angles difficult. The Gladiator is capable because of its standard 4-wheel drive system and high ground clearance. The Rubicon trim version comes with 33-inch all-terrain tires, taller springs, monotube shocks, sway bars that disconnect easily with the touch of a button, and locking rear and front differentials.
Interior
The interior of the Gladiator feels like the Wrangler and they share the same dashboard. There are comfortable front seats with a narrow center console. The Gladiator's second row of seating has a locking storage area below it. Behind the seat is an optional Bluetooth speaker that serves adventures outside of the vehicle.
Trim Levels
The 2020 Gladiator is available in three trim levels:
  •
Base Gladiator Sport-standard features are a 5.0-inch radio display and air conditioning; available options include 7.0-inch and 8.0-inch touchscreens for infotainment with Apple CarPlay and Android compatibility, power windows, alloy wheels, hardtop, and 8-speed automatic transmission
  •
Overland-this can be outfitted with heated seats and leather upholstery
  •
Rubicon-this is the base model with a pile of off-road goodies including a beefier transfer case with a lower crawl ratio, 33-inch off-road tires, locking front and rear differentials and automatic sway bar disconnecting; adaptive cruise control, automatic emergency braking and forward-collision warnings are available in an option package
The 2020 Gladiator Rubicon fenders allow you to switch out to 35-inch tires and a coordinating spare will fit below the bed. A trail camera that mounts on the grille is an option that allows the driver to see what is on the road that is not visible through the windshield. Cleaning the camera of dust and mud is easy with an integrated spray nozzle that operates with the touch of a button.
When comparison shopping, the Gladiator Overland is spec'd out similar to the Wrangler Sahara. Serious off-roaders will want to bypass the Sport and Sahara and move to the Rubicon trim. An optional trailer package is available on all trims, but the Sport is the only one rated to tow 7,650 pounds. The Overland and Rubicon are only rated for between 4,000 and 7,000 pounds.
The Gladiator is rated for an estimated 16/23/19 for city/highway/combined when outfitted with the standard 6-speed manual transmission. With the 8-speed automatic the mileage changes only slightly to 17/22/19 mpg.
Wrangler v. Rubicon
When comparing the Gladiator to the Wrangler it really is a matter of personal taste. Both have plenty to offer. The Gladiator does a great job tracking through the mud and dirt, but the Wrangler has the edge on off-road ability. The main difference is a feature important to off-road enthusiasts. The Wrangler features disconnecting sway bars and beefier axles, which combined with the shorter length make it easier to navigate on rock climbs, tight corners, and areas such as narrow, steep riverbeds.
The Gladiator has the added ability of being a pickup truck, and the 5-foot bed allows it to carry more cargo. It also has a higher towing capacity than the Wrangler. If you want to sacrifice a little in off-road geometry due to length, the Jeep Gladiator Rubicon gives you practicality and off-road ability in a very cool looking truck.
Great Deals Await
You can't go wrong with shopping at
Patriot Dodge Chrysler Jeep RAM
 for your new Jeep Wrangler or Jeep Gladiator. We support our military and offer new vehicle specials for both veterans and active members of the armed forces. Located in Prior, Oklahoma we are located near several military bases. We will even make the first vehicle payment of up to $400 for active military.
Our policy is to always put the customer first. Our sales professionals are ready to put you into the Jeep of your dreams. Stop in and visit our showroom,
contact us
online or call with any questions. We are open late to serve you, call us today!