A Dynamic Brand
If you've ever owned a Dodge Ram, you know this make and model is dynamic and unique. If you're an enthusiast, it's natural to keep up with the quality this manufacturer is distributing at a dealership near you. The new 2019 model is no different from others for Dodge in that it's brought several updated and excellent high-quality vehicles to the market. The 2019 Dodge Ram 1500 is sure to deliver in many areas, depending on what your preferences. Read on for a few of the highlights of what this great truck has to offer.
Luxury and Performance
You can expect the Dodge Ram 1500 to deliver a package that will include luxury, performance, and cargo-hauling ability. You can expect comfortable seats, even in the base model. If you're using a truck for long trips, this level of comfort will be an important feature as you will be riding in the vehicle for long periods of time. The climate control system, at the base level, will allow you to manually set your ideal temperature level. In the more luxurious Ram models, automatic controls heighten the experience. There is plenty of space in the back, which means comfort for all passengers.
Some Standard Features
As far as convenience goes, the 2019 Dodge Ram 1500 doesn't disappoint. You can expect a push-button start on all models, along with an electric parking brake. You'll also find a telescoping steering wheel with a lot of room for adjustment. If love the exterior parking camera, you're in luck because this feature is standard with all trim models. You will never have to worry about backing out of a driveway or parking space without assistance again. Other features include adjustable pedals, split folding rear seats and steering wheel with audio controls. Visibility, which is key for any driver, is excellent in this model of truck. The fact that the hood slopes down significantly above the headlights makes it easier to see the road, and large door mirrors allow for more rear-view visibility.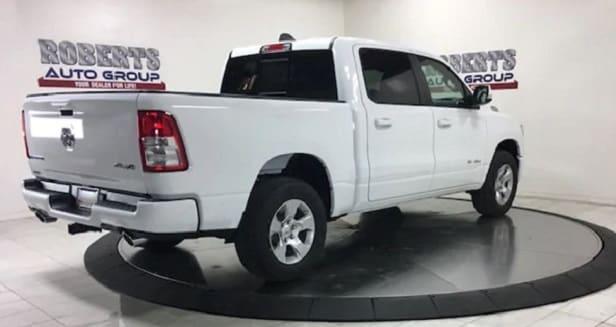 Schedule that Test Drive
If you're ready to do some shopping visit www.dodgeofpryor.com or come on over to see our showroom floor and take a test drive. Roberts CDJR is your Dodge Ram Dealer in Tulsa, OK and we will help you find the style, luxury, and performance you need in a Dodge Ram 1500. The only way you will know if this is the right choice for you is to see it and drive it.